The past year has been one of change, which generally means more time for me to be behind the computer instead of the camera. I still love photography and my role in documenting life around me. Here are a few of my favorites from 2019, with notes: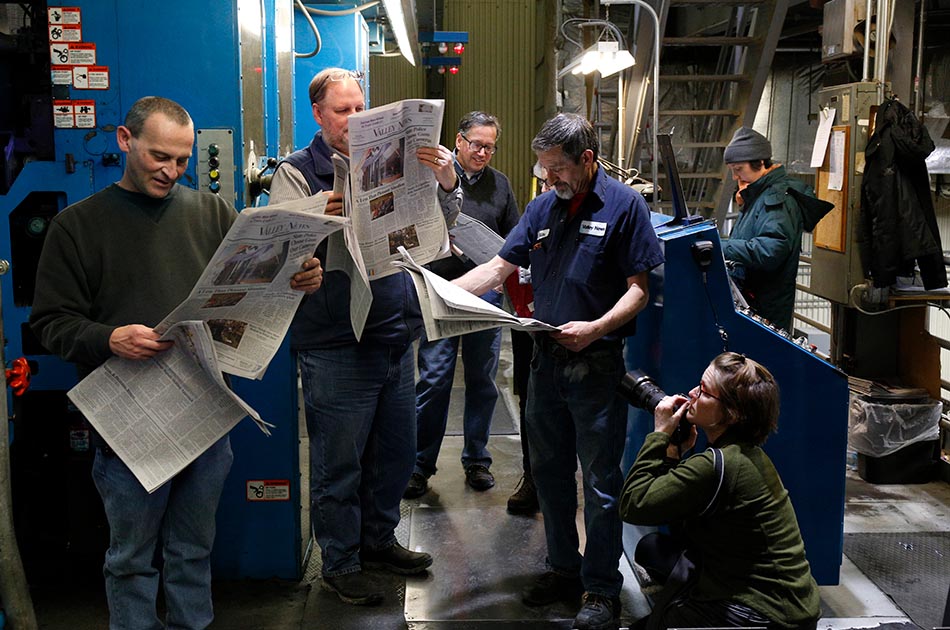 It was a bittersweet moment to see the last issue of the VALLEY NEWS come off the press in West Lebanon, N.H., at the end of January. The press crew moved to a new facility in Penacook, N.H., which also meant a full redesign and the newspaper's deadlines have been moved up by several hours.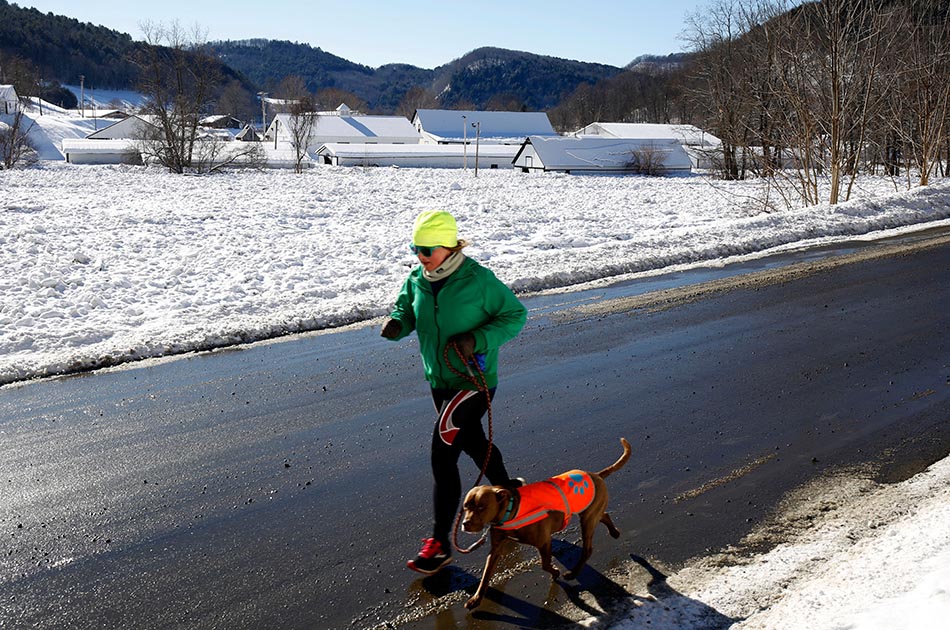 When one of the reporters at the newspaper heard the Tunbridge Fairgrounds had flooded following a sudden January thaw, she was blown away. While it was amazing to see, fair officials accessed the situation with a big shrug. Happens every year, they said.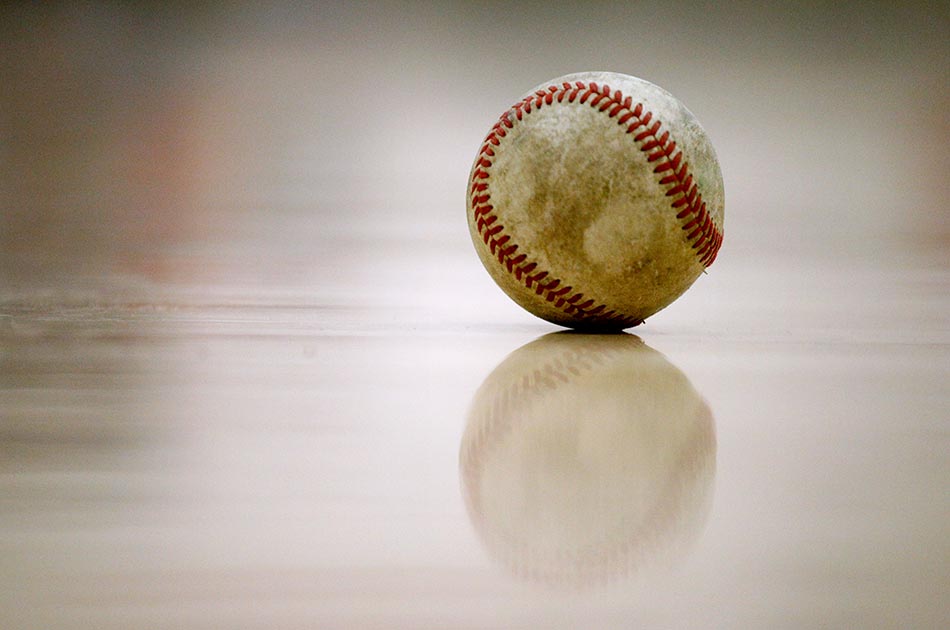 Finding a fresh angle on any assignment is always a challenge. In Northern New England, high school baseball season always starts indoors because the fields are too soggy. I'm sure the players thought I was nutty for laying on the floor, taking a picture of a ball.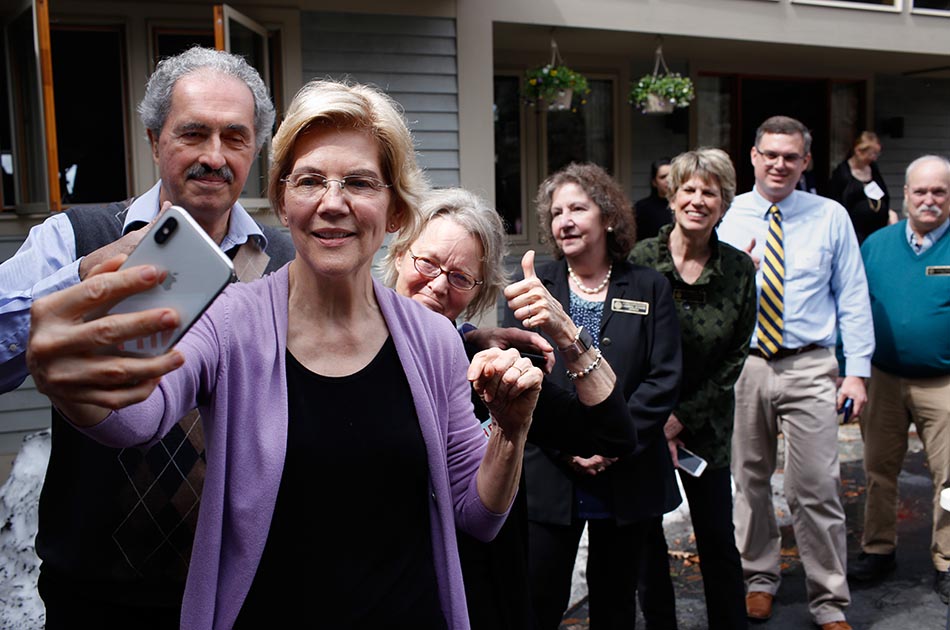 With a huge field of Democratic presidential candidates this time around, we have been seeing them more often. On a Saturday in April, I covered Sen. Elizabeth Warren's campaign stop at a Lebanon, N.H., house party, where she did a video for Twitter before departing. The standard question for getting credentials these days is "what is your Twitter handle?"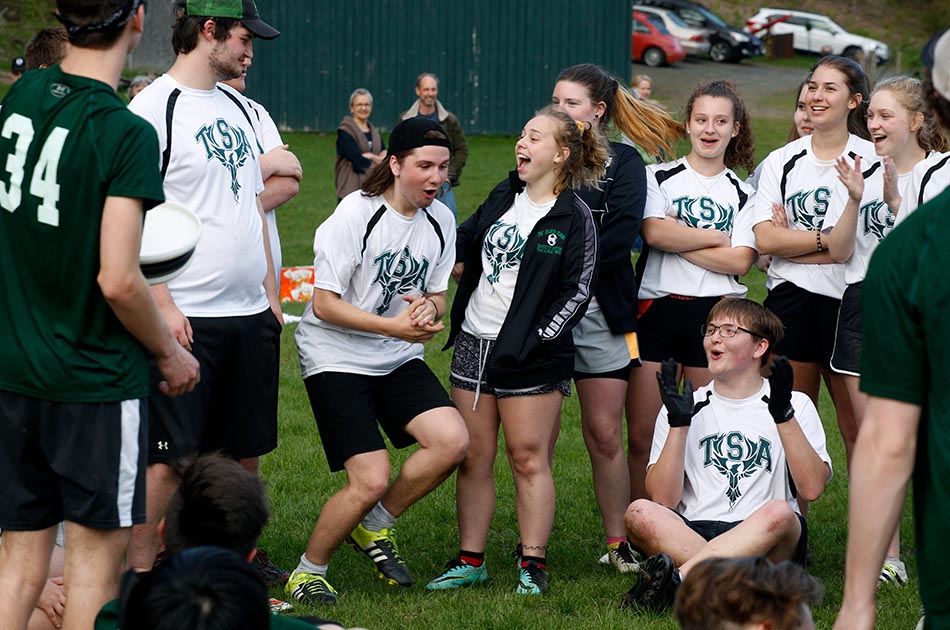 My daughter played on Sharon Academy's Ultimate team for the first time. Ultimate is a sport recently sanctioned by state officials and Sharon is the only school in the area with a team. I was there for Senior Day, one of our daughter's last school activities I photographed over the years.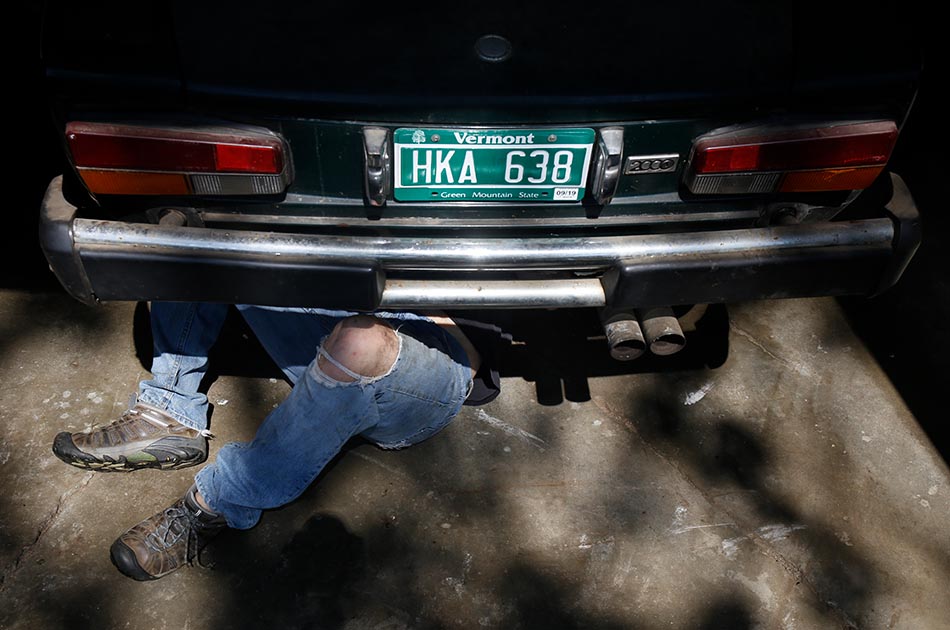 With fewer weddings to photograph, I spent a lot of my time off over the summer crawling under and around my project car, a 1979 Fiat 2000 convertible. While I felt overwhelmed at the prospect of rebuilding the whole brake system, I did it and the car is close to being fully roadworthy.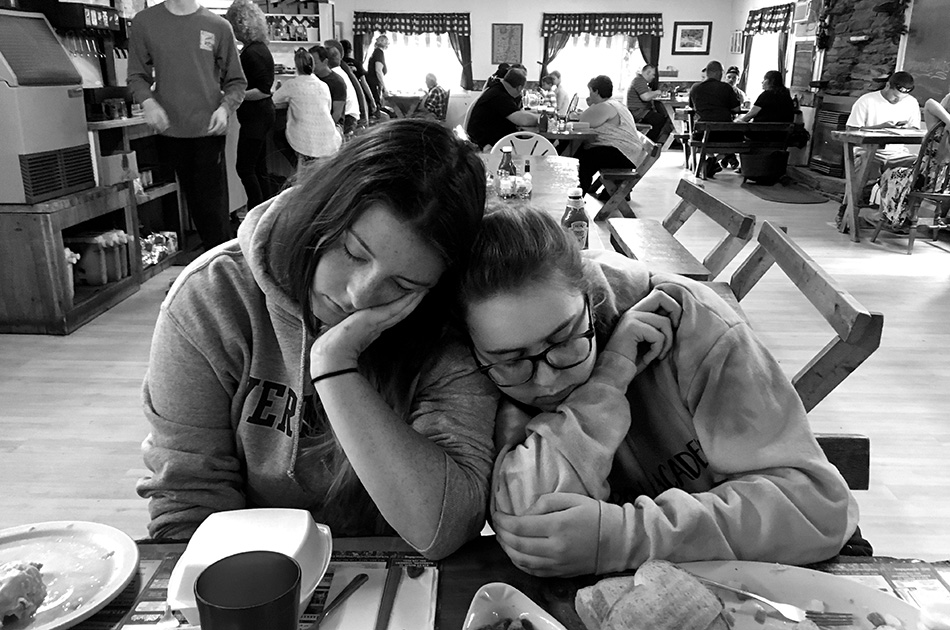 When our daughter graduated high school, she not only had a long ceremony to be part of, but then a party with family and an overnight excursion with her classmates at the school. Organizers didn't want students driving themselves home, so I picked her and a friend up and we went out for breakfast at Eaton's Sugarhouse. I can see why I was driving!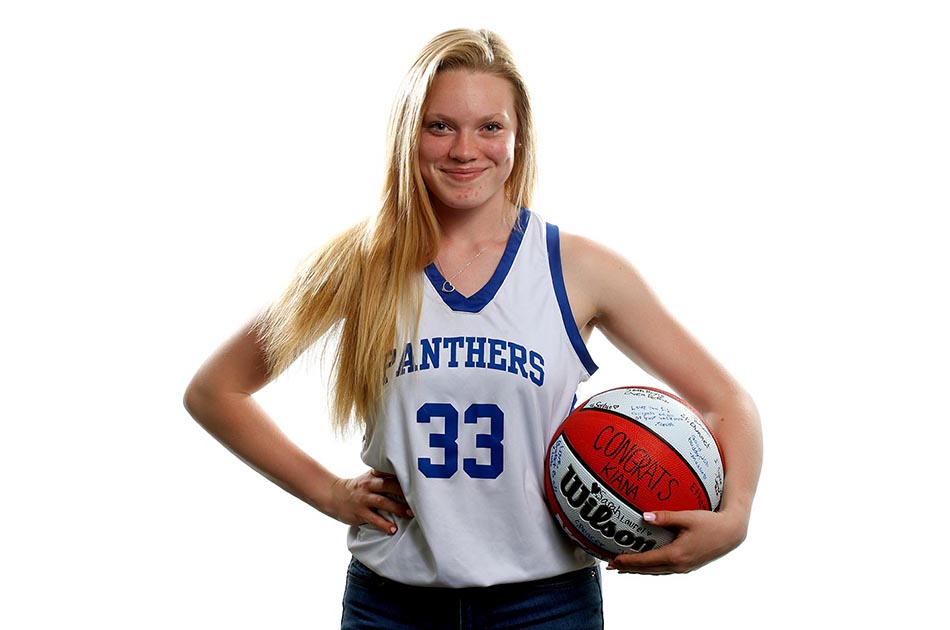 Our annual VALLEY NEWS Athlete of the Year portrait sessions were spread amongst the staff this year, a relief to me. Of those I did, one of my favorites was of Kiana Johnson, a senior at Thetford Academy. Kiana had to change schools for her last year after Chelsea Public School closed due to consolidation. She brought the ball she was given for scoring 1,000 points in her high school career, signed by her teammates.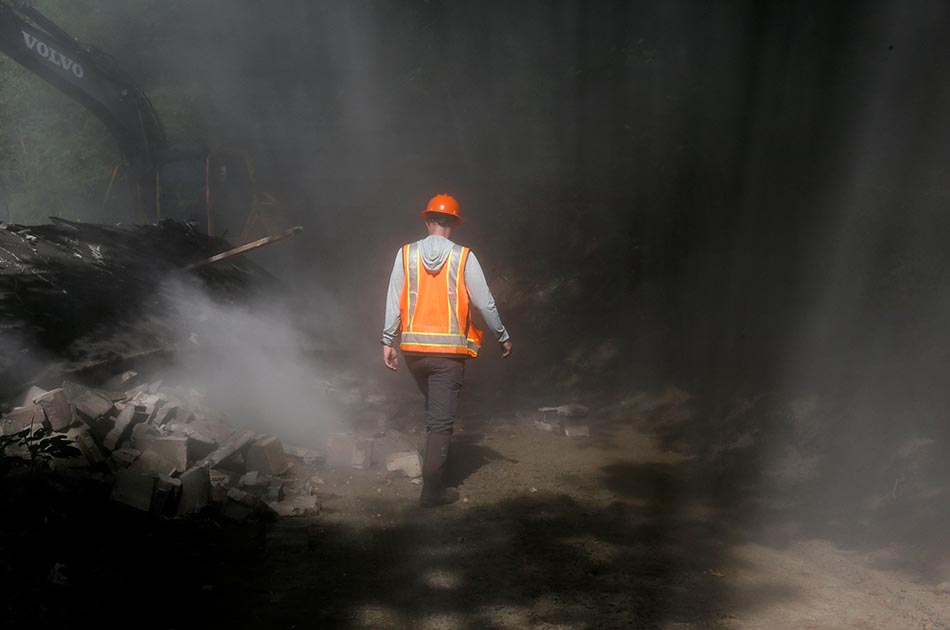 Over the summer, Ben Canonica asked me to document the removal of a dam along the First Branch of the White River in Royalton, Vt. The first order of business was to push over a cinder block shed, creating an eerie photo as decades of flying dirt and debris went airborne. Greg Russ of the White River Partnership, shown, and I were amazed at Ben's expertise in maneuvering his machines to return the river to its original state.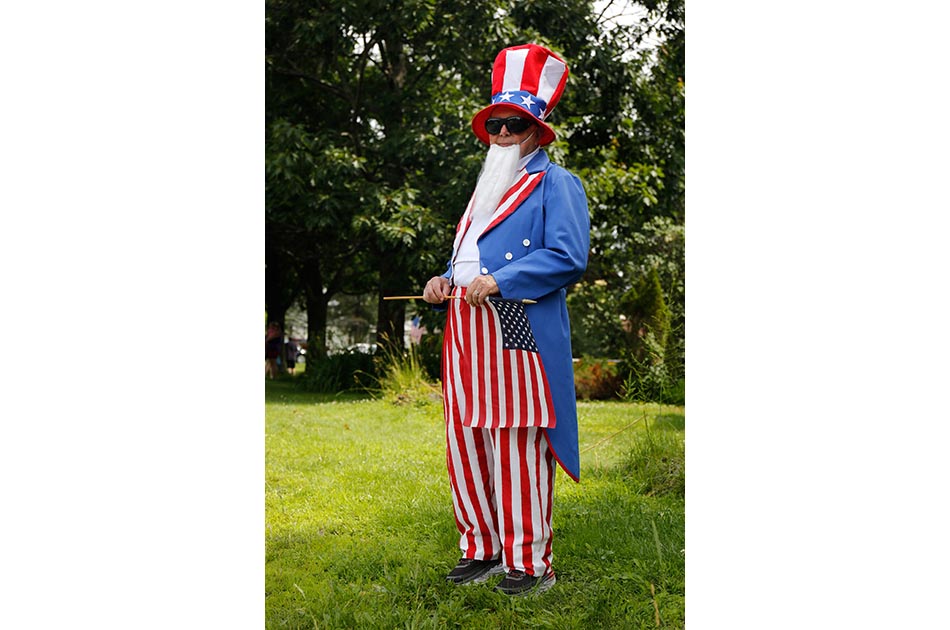 After covering Plainfield's Fourth of July parade for the VALLEY NEWS, I added this photo of John Yacavone at the last minute because it grew on me (I love how the flag blends into his pants!). He is an enthusiastic Uncle Sam, leading the traditional parade for the past six years.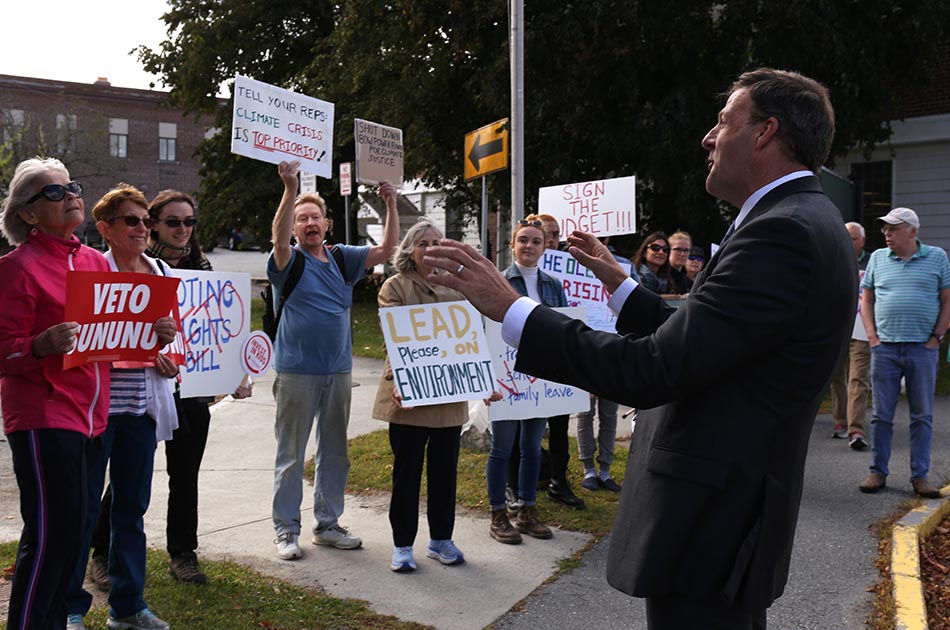 Protestors told the VALLEY NEWS they were planning to picket Gov. Chris Sununu's appearance at a Lebanon, N.H., senior center due to the budget impasse between the Republican and the Democratic-majority legislature. As Sununu was leaving the event, he suddenly decided to speak with them and I was happy to document it.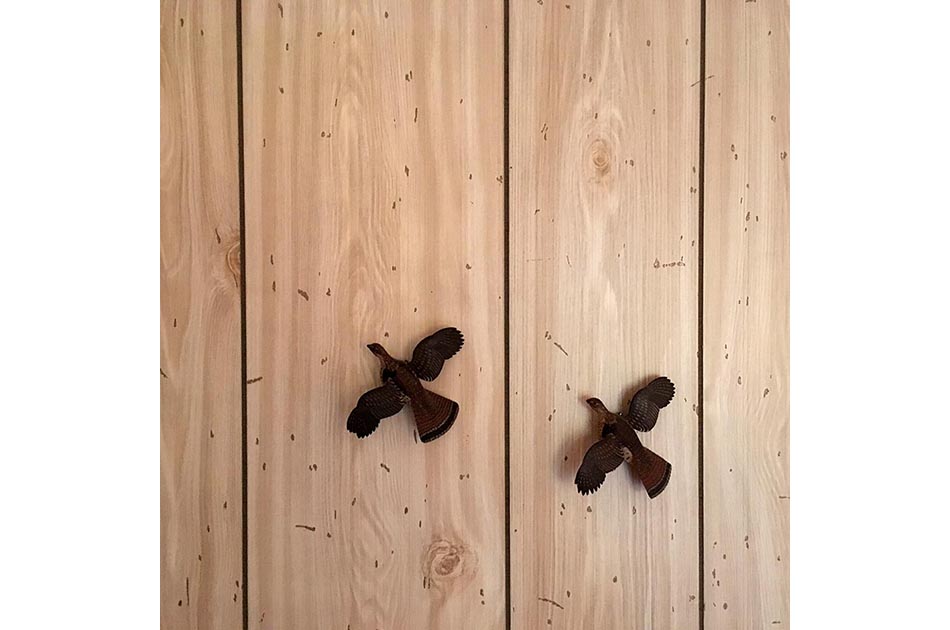 My wife and I were fortunate to be invited to stay for a week in July with her cousin's family at the Adirondacks camp where we spent our honeymoon. The original building has been around for over 100 years and we stayed in the smaller and newer cabin where her late grandmother spent many summers. It was so relaxing!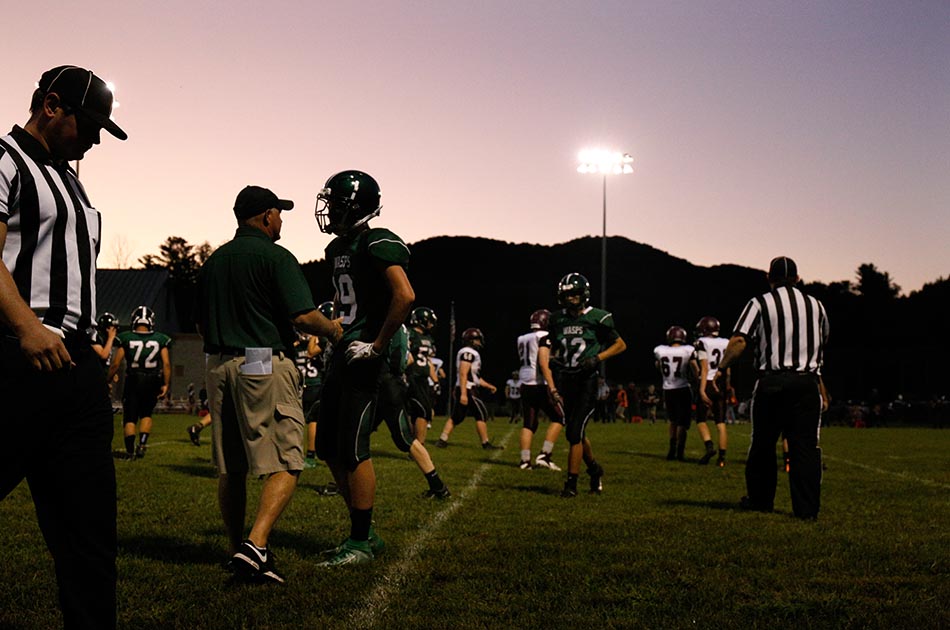 Daylight is long enough in the first week or two of the high school season that you're able to mix in sunsets with the action, as I did at a Woodstock, Vt., game at the end of August. Peak light instead of peak action!
Valley News photographs copyright © Valley News
May not be reprinted without permission