As longer and warmer days turn melt winter's cold away, I'm feeling hopeful as Vermont's COVID case counts decline and vaccinations rise. Here's a look at a few of the photos I did for the Valley News in a winter like no other: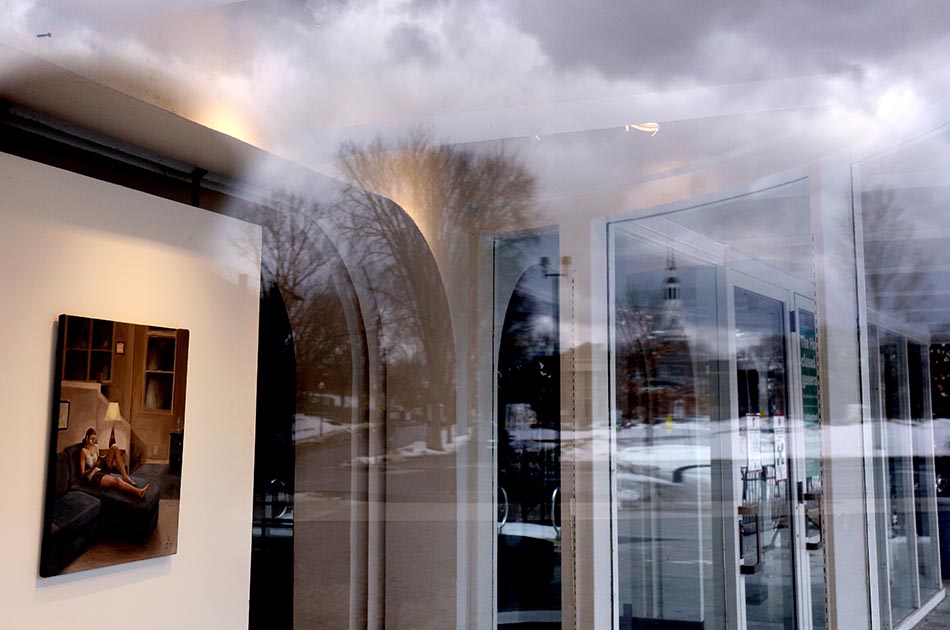 A painting of a student studying indoors is on display in the closed Hopkins Center entryway at Dartmouth College in Hanover, N.H. According to the college's COVID-19 dashboard, on March 1 there were 122 active cases amongst students, with 120 in isolation.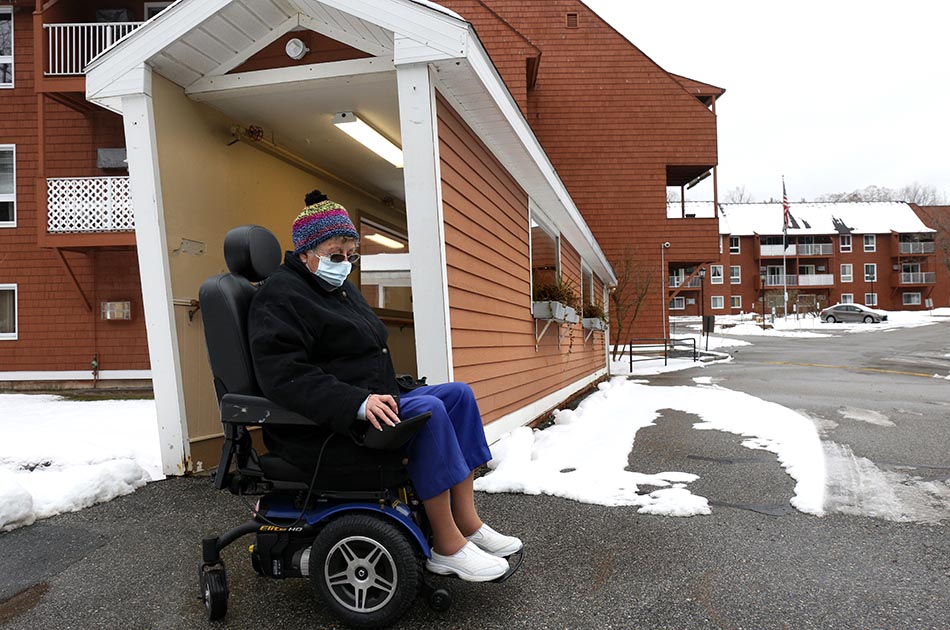 Elaine Perrault, 83, of Claremont, N.H., takes a cigarette break outside the Earl M. Bourdon Centre where Perrault has lived for the past eight years. Perrault tested negative for COVID-19 and is due to be tested again. In early January, 21 residents and 5 staff have the virus. Residents have been told by intercom to stay in their apartments and communal activities have been canceled. "It's eery," Perrault said of the empty halls. "I want to see these people back to smiling," she said later.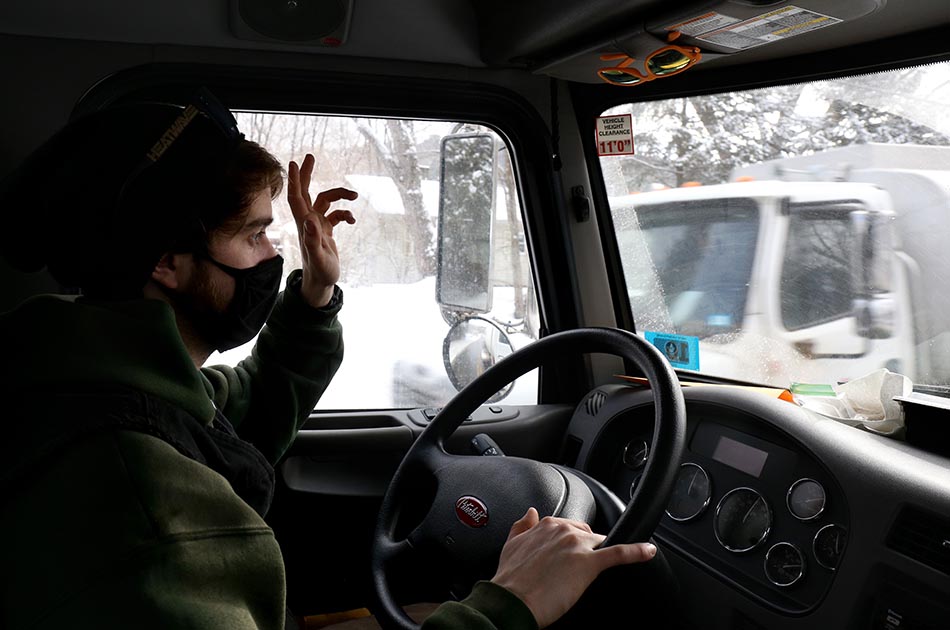 Hunter Leveille waves to a fellow home energy delivery driver while passing each other on Route 14 in West Hartford, Vt., in February. Leveille, who delivers propane for Simple Energy, waved to the over half-dozen trucks delivering propane and heating oil that he passed on the road during his morning route.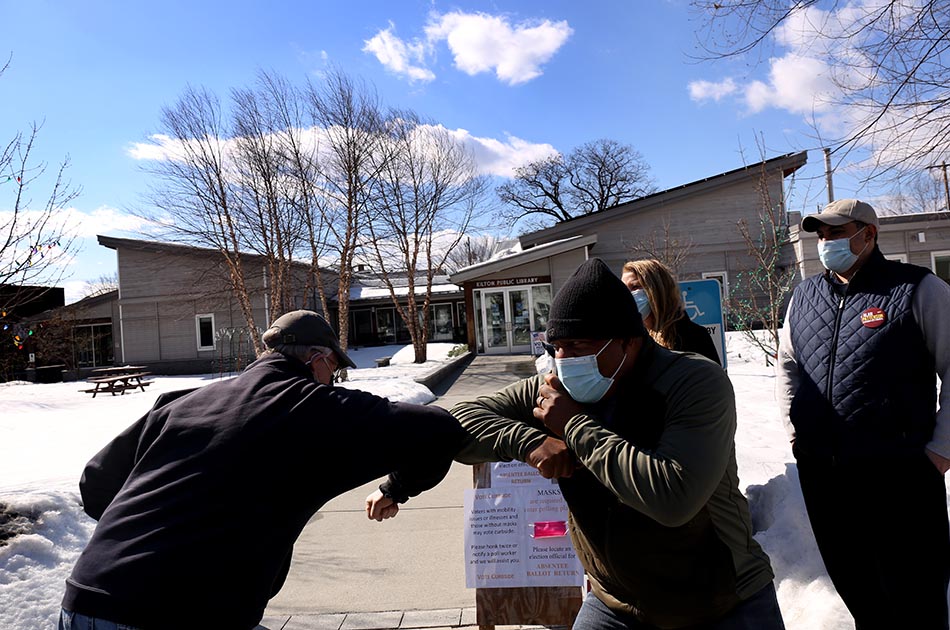 While talking on the phone, Lebanon City Council candidate Al Patterson, right, elbow bumps with Bruce Johnstone, of Lebanon, N.H., while standing outside the Ward 1 polls at Kilton Public Library in West Lebanon. Standing with Patterson are Lebanon School Board candidate Barbara Patterson, who is also Al Patterson's wife, and supporter and volunteer Ramzi Hraibi, of West Lebanon.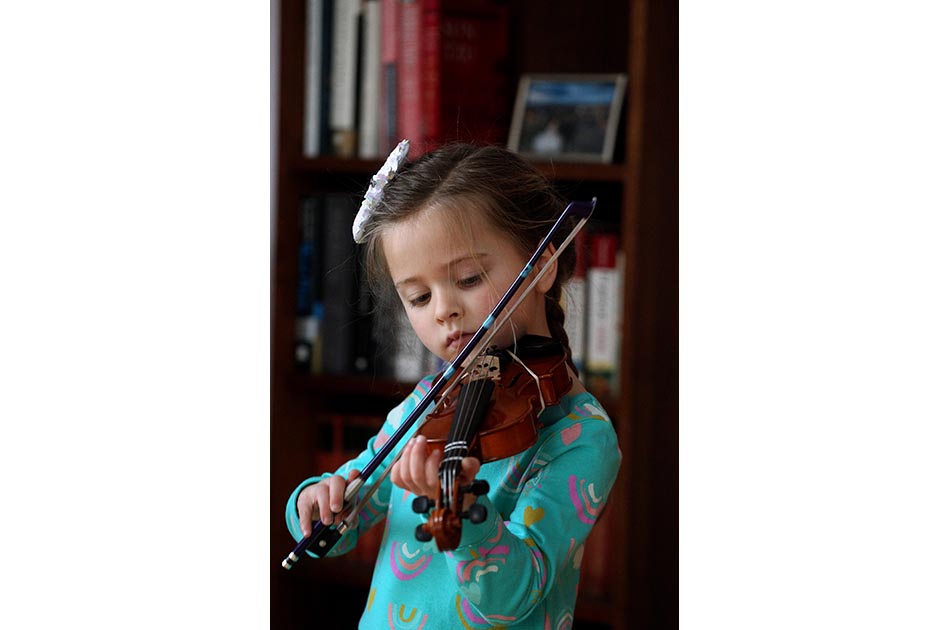 Clara Oren, 5, practices violin with her father and brother at their home in West Lebanon. Clara has been taking two lessons a week remotely – one a one-on-one lesson and the other in a group – with the Upper Valley Music Center for about a year.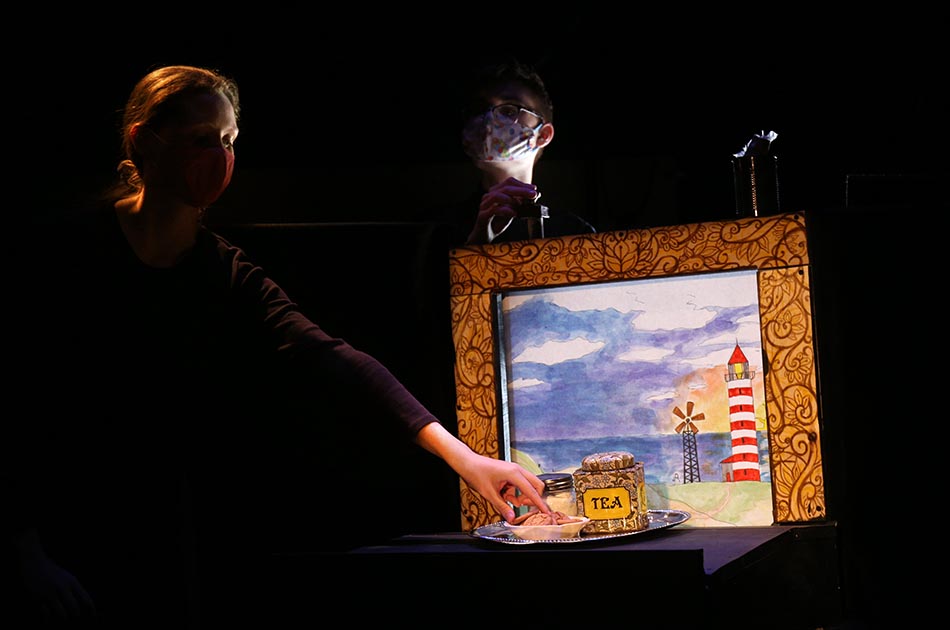 Hanover High School senior Allison Whitmore places a plate of tea and cookies onto the miniature stage being filmed as part of Finegan Kruckemeyer's play "This Girl Laughs, This Girl Cries, This Girl Does Nothing" at Hanover High School in Hanover, N.H. Whitmore is also an actor in the play, as well as sharing the duties of mini-stage operator with senior Johan Berendsen, in background, and others. Due to the COVID-19 pandemic, the Footlighters theater group is producing the play to be seen online for their winter production. The school's fall and spring performances have been and will be outdoors.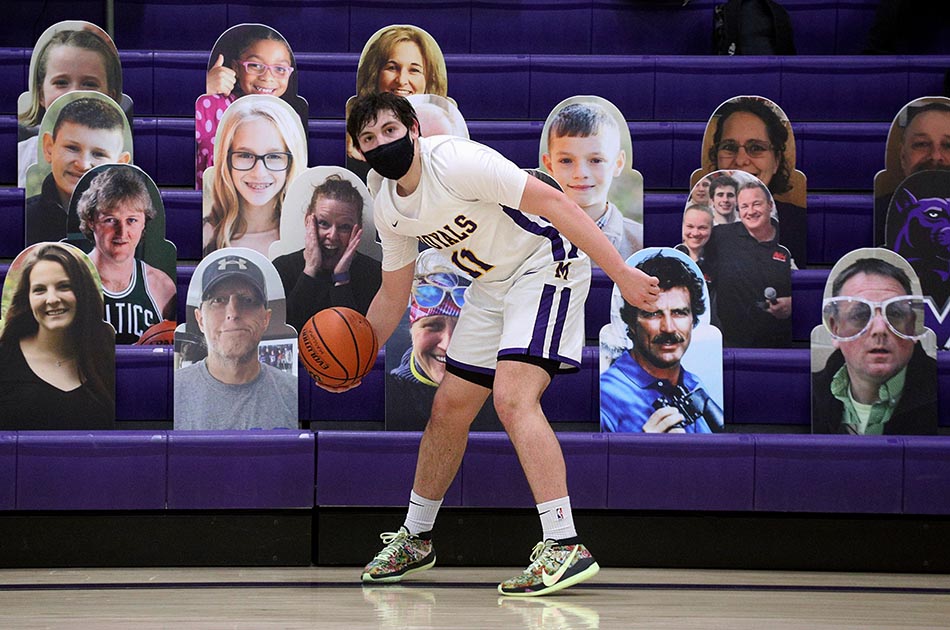 As cardboard cutouts take the place of spectators during the COVID-19 pandemic, Mascoma's Connor Thompson saves the ball from going out of bounds during the first half of their game against Lebanon in West Canaan, N.H.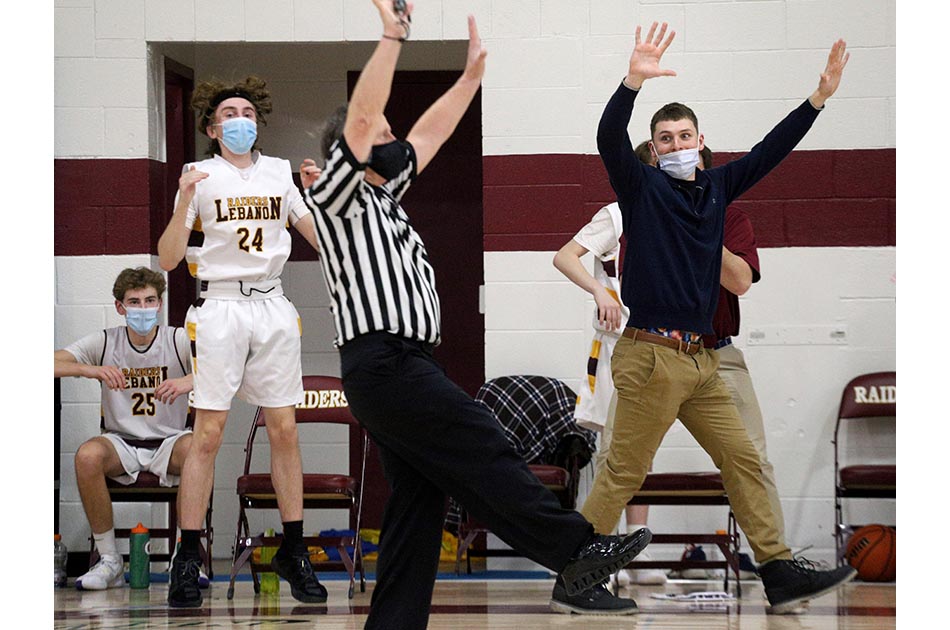 Lebanon junior varsity Head Coach K.J. Matte acknowledges the referee's 10-second backcourt violation call against Mascoma during their game in Lebanon. Matte, who is a senior at Bowdoin College, is leading the Lebanon squad while his college basketball team takes the season off due to the COVID-19 pandemic.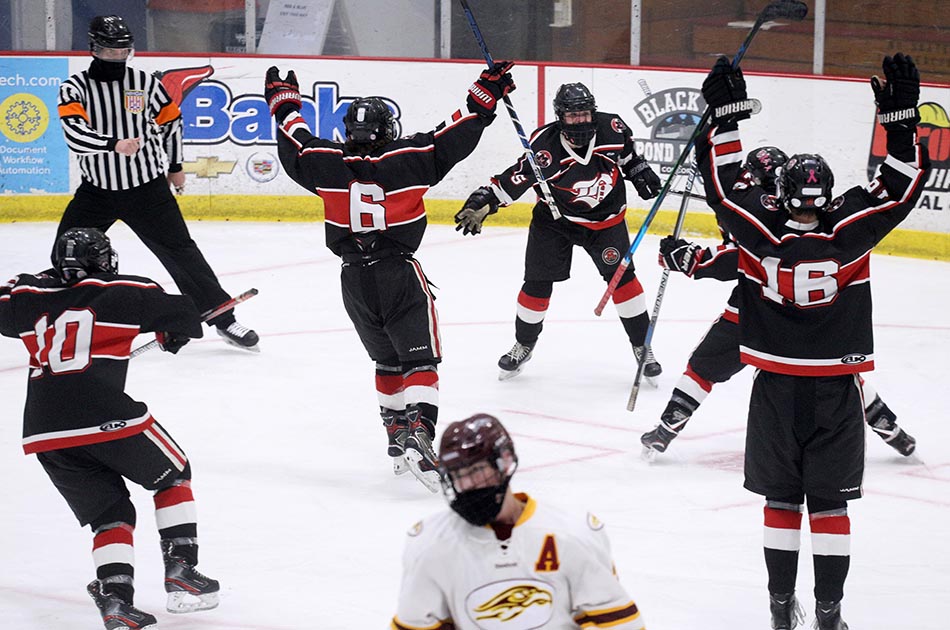 Lebanon-Stevens-MRA's Griffin Auch, in the foreground, reacts as Berlin-Gorham celebrates tying up their semifinal playoff at 3-3 in the third period in Concord, N.H. After trailing 3-0 at the beginning of the third period, Berlin-Gorham won, 5-3.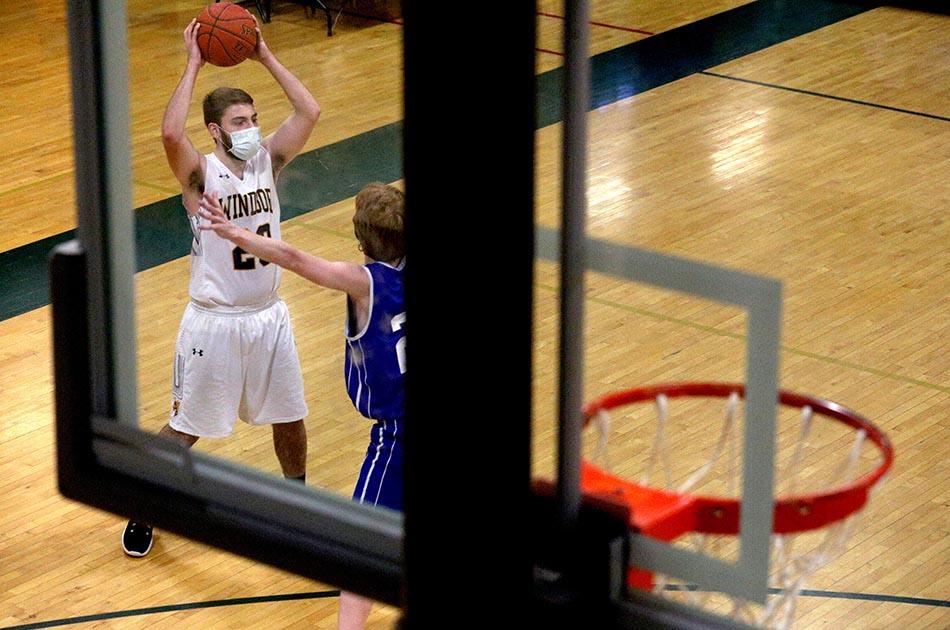 Windsor's John Cook III looks for a teammate to pass to as Thetford's Nick Gray defends during their playoff game in Windsor, Vt.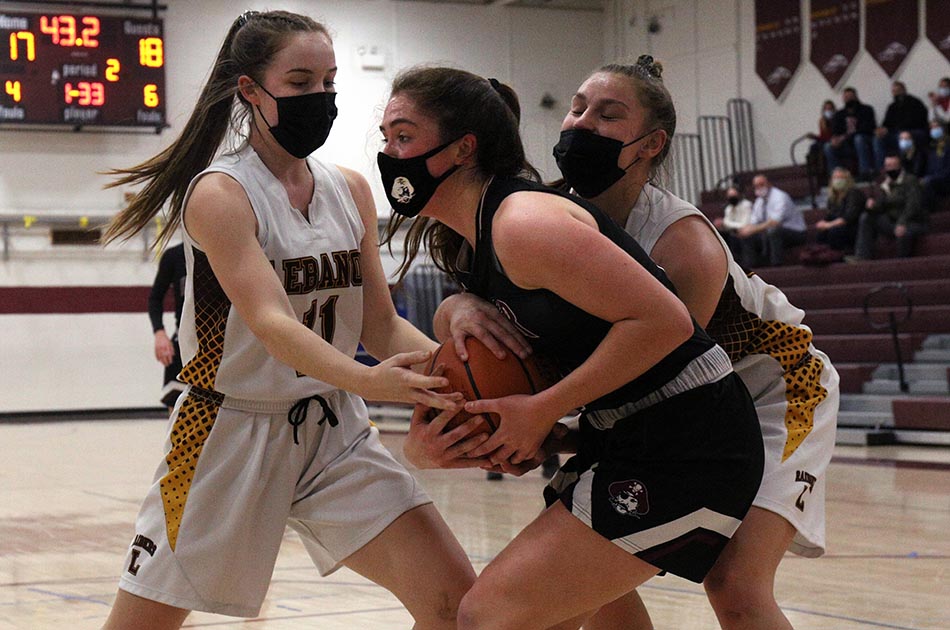 Lebanon's Clara Smyrski, left, and Sally Rainey tie up Hanover's Caroline Adams for a jump ball in the first half of their game in Lebanon.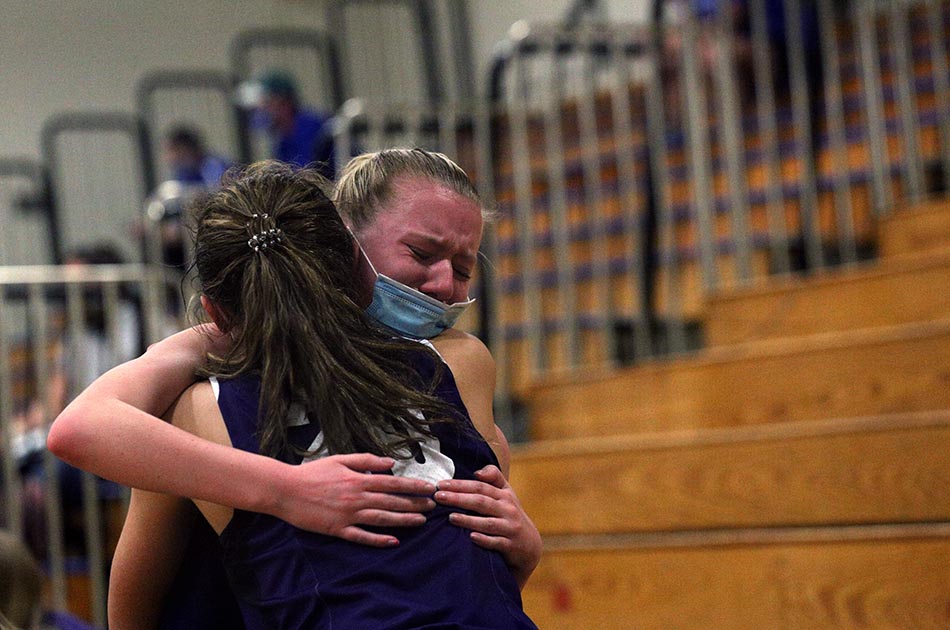 Oxbow's Ellyn Hart hugs teammate Emma Parkin (20) as their season draws to a close in their 62-30 semifinal loss to Lake Region in Orleans, Vt.
Valley News photographs copyright © Valley News
May not be reprinted without permission